EV-1000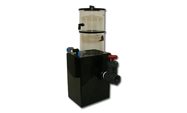 The EV-1000 is a commercial-grade protein skimmer that is compact enough to use on a home system. Everything about this skimmer is oversized - we use 8" cast acrylic and a massive mixing chamber, along with dual air inlets and dual JG fittings.

The amount of air and water this skimmer can process is impressive.
EV-2000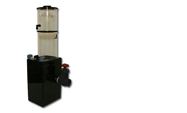 Whether you've got a giant reef system or a shark pool, the EV-2000 will not let you down. Other than a custom build, this is the largest and most powerful skimmer we make.

This is the model we've designed for commercial coral farms, public aquariums and dream home systems that demand the utmost in water quality.
Auto Waste Collector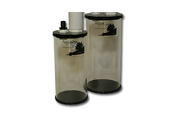 The Auto Waste Collector is an accessory that works with any of our EV Series skimmers, but not the Remora or Urchin skimmers. The AWC acts as an auxiliary waste reservoir

that will stop the flow of air from the skimmer once it is full. This stops skimmer production and helps to automate your maintenance schedule.